John Kotter's 8 step Change Management Model is a strong framework that has been used to implement change in many organizations. This post examines the model, its advantages and disadvantages, and its value to strategists and project managers.
What Is the John Kotter Change Management Model?
John Kotter, a change management expert and Harvard Business School professor, developed a now well-known 8-step change management model, published in his 1996 book "Leading Change". Kotter co-founded – and is currently Chairman – of Kotter International, which consults on his research on leadership, strategy execution, transformation, and large-scale change.
While there are 8 steps to the Kotter change management model, these steps are broken down into 3 major phases:
Create a climate for change – Set the stage for change success by creating urgency for the change, building a coalition to influence and support the change, and creating a clear vision for the change to share across the organization.
Engage and enable the organization – This is the execution phase for the change – where you communicate the vision, empower people to take the right actions, and commit to achieve quick wins.
Implement and sustain – In this final stage, the concern is embedding the change in the culture – in the beliefs, processes, and structures – of the organization. In this stage, like the completion of a project, you hand over the change to operations, which needs to sustain the change.
Here is a brief description of each of the 8 steps, which we will explore in more detail below.
Create a sense of urgency – Make a compelling case for the change, and get management on board.
Build a coalition – You cannot effect change yourself, but rather need to enroll key people in the organization.
Create a clear vision – Paint a picture of how the organization will look with a short value proposition elevator speech.
Communicate the vision – Socialize the project throughout the organization as a mission.
Empower others – Hire, borrow, recruit, remove barriers, and overcome obstacles to enable the team.
Create quick wins – Change takes time – but you need to show progress and let people know.
Build on the change – Add to the quick wins to build momentum and reinforce the change and its benefits.
Embed the change – Like reinforcement, this step institutionalizes the new way of working in the culture.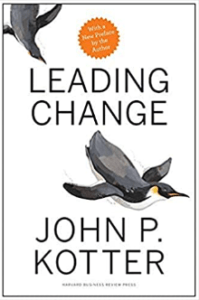 Let's take a deeper look at these phases and steps.
Phase 1: Create a Climate for Change
Creating a Climate for Change is critical to set the stage for success.
Other change methodologies also emphasize preparing for change. For example, the ADKAR Model of individual change emphasizes individual awareness of the need for change and desire to participate in achieving the change.
That's what creating the climate for change is about. In Kotter's model, the first three steps are focused on creating the right climate for change within the organization:
1. Create Urgency
You can begin to create urgency by identifying Strengths, Weaknesses, Opportunities, and Threats (SWOT) that the organization faces. These will point to the need for changes in some areas.
Strengths – When you identify strengths, think about unused potential. When you ask, "What are our strengths?" and "How could be better utilize our strengths?", you may identify some needed changes to realize the potential.
Weaknesses – What weaknesses does the organization have? What actions could be taken – i.e what changes need to be made – to avoid those weaknesses and even create a strength?
Opportunities – What opportunities do we have as a result of trends in the marketplace, technology developments, competitive evolution, and other developments that you can collectively observe? What changes might we need to implement in order to seize those opportunities?
Threats – What conditions exist that could threaten our organization's position? Could it be geopolitical risk…legal or regulatory impacts…emerging technologies? There may be a host of potential threats that could work against the organization. What changes could you make to mitigate these threats?
SWOT analysis works very nicely for identifying areas of change that will create urgency among stakeholders.
2. Build a Coalition
If you have identified the need for a change, you may already have some allies that have 'bought in'. To make things happen, you need to get more holistic about it and identity the key stakeholders that could have influence. This can help build momentum and get others to join the movement.
In addition to identifying and seeking out key leaders and stakeholders, here are a couple of other ideas to building a coalition:
Assess weaknesses of the current coalition, and try to fill the gaps. Try to involve a broad cross section of people – people from different areas in the organization, with different views and interests. Strive to show a breadth of support.
Create or align with an existing group that already works together and is committed to the change.
3. Create a Vision
Just as an entrepreneur creates of vision for his/her business, you need to crystallize your vision for the change into a clear and understandable vision statement.
What end state do you envision?
What values are needed to rally around this change?
Is there a mission that you could break down to a simple mission statement?
Can you get others to buy in to that mission statement – and adopt and sell it themselves?
With these three steps, you can build a climate within the organization that is ready to accept change. Accomplishing all three is a prerequisite for Engaging and Enabling the Organization to implement the change.
Phase 2: Engage and Enable the Organization
After establishing Urgency, Coalition, and a Vision, the next steps put that into action and implement the change.
This phase is called 'Engage & Enable the Organizations and consists of three steps:
4. Communicate the Vision
This is much like communicating to customers; you need to communicate the vision for the change through every channel available.
This effort includes:
Communicating about the vision persuasively and frequently.
Permeating every facet of the organization with that message of vision.
Including in your vision a clear distinction between the current state and envisioned future state.
Providing forums for discussion and exchange within the company, and fostering open, transparent, and frank discussion.
5. Empower Others
Pay close attention to voices of resistance and work consistently to turn them around. Remove institutional barriers to change – old ways of doing things embedded in the culture and systems.  They can support the resistance and keep people from moving ahead mentally and in practice.
Here are some additional ideas:
Tap external experts that can convincingly support your vision.
Work within the structure of your organization to ensure the message is getting through at every level.
Identify opportunities for early adopters of the change, and use them as examples of what is possible.
6. Create Quick Wins
Change is a momentum game. Every action taken toward the change increases strength of the movement, and decreases the resistance to it.
Here are some ideas for quick wins:
Identify the 'low-lying fruit' – the easier, less costly projects that also have a strong chance of success and impact.
Assemble team members that will be strong proponents and leaders of change in projects to follow.
With the organization 'Engaged and Enabled', you will have set the stage for momentum and ensure that the change is permanent.
Phase 3: Implement and Sustain
The final phase, Implement and Sustain, is all about building on forward momentum to ensure that the change becomes the 'new normal' for the organization.
This final phase includes two steps:
7. Build on the Change
Early victories need to be followed by repetition and expansion of the change effort.
Here are some ways to cement the gains:
After each project victory – and even false starts, if you have any – perform a Lessons Learned analysis.
Incorporate those Lessons Learned into all new project planning as the effort continues.
As the 'low-lying fruit' gradually disappears, leverage the momentum gained to take on more difficult challenges.
Proactively grow your cadre of experienced and influential stakeholders.
8. Embed the Change
The ultimate key is to replace the old culture with the new – to implement new processes, procedures, and beliefs that align with the change.
Here are some ways to do that:
Use the established communication channels to trumpet the success of the change. Include stories of what has already happened.
Provide recognition for individual jobs well done by all involved.
Ensure that on boarding programs for new hires include revised elements supporting the changed vision.
Make sure that new leaders in the organization buy in to the new vision.
Organizational Strategy and the Kotter 8 Step Change Model
Strategy always needs to be concerned with the management of change. Most strategies involve change at some level.
—————————————-
I recommend these strategy resources on FlevyPro (paid links):
Change Management Frameworks Reference Guide
402-slide PowerPoint deck
$179.00
Change Management Models
136-slide PowerPoint deck
$59.00

10 Principles in Leading Change Management
17-slide PowerPoint deck
$25.00
Lean Change Management
21-slide PowerPoint deck
$25.00
—————————————-
Much of the focus of the Kotter Change Model involves change within the organization. It depends on how the organization is structured, how decisions are made, who the influencers are, and what the channels of communication are. There is also a strong cultural component where some organizations have a stronger propensity to change than others.
Two strategic frameworks address these needs around the organizational structure:
McKinsey 7S Framework – This framework addresses the channels of communication and linkages across various entities in the business – among 'hard' elements such as strategy, structure, and systems, as well as 'soft elements like skills, staff, and style. The framework can be helpful within the context of a change initiative being managed according to the 8 step model.
Nadler Tushman Congruence Model – This model can provide a way to identify gaps in readiness – at the organizational, team, and individual level. It looks holistically at interrelationships among culture, structure, people, and work and how they function to convert the inputs into outputs.
The Kotter 8 step change model may need to be utilized in conjunction with these and some other strategically structured models.
Project Management and the Kotter 8 Step Change Model
Change management is essentially an implementation challenge, and the Kotter 8 step change model aligns well with project management methodologies for achieving that.
—————————————-
I recommend these PM templates (paid link):
—————————————-
Thinking broadly about the three overall phases that Kotter's 8 steps fall into, here are some considerations:
Create a climate for change – At the program level, this needs to be considered as part of the program timeline. What climate-related changes need to be in place to achieve the program objectives at key milestones?
Engage and enable the organization – This is like the execution phase of a project. It highlights the people aspects and leadership challenges of managing projects and programs. This includes the selection of projects – identifying and initiating efforts to gain early victories and building from there.
Implement and sustain – Lessons earned are important and were mentioned above as a way to keep the momentum going. Sustainment is the biggest challenge in this phase, where changes are handed over to the operations. Having those operations prepared – most logically through participation in the change – is a critical consideration for project and program managers.
The phases and steps of Kotter's change model map nicely to project management methodology.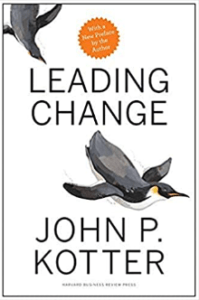 Advantages and Disadvantages of the Kotter 8 Step Change Model
The Kotter 8 Step Change Model definitely has some appeal and logic. I think it's a good framework – but as with any framework, it needs to be tailored to the situation.
Here are some ideas to consider on the advantages and disadvantages of the model:
Advantages:
There is a focus on obtaining buy in, which is a necessary condition of success with change initiatives.
The model fits nicely on top of traditional organization structures. As such, I think it especially has advantages for larger organizations.
It provides clear steps thru the process of change – and will not leave you wondering what to do next.
Disadvantages:

It is a top-down model. Consider whether in your case it may be better to have change emanate from the bottom up.
The model can potentially lead to resistance from employees – if no one understands the change curve. That's part of what needs to be weighed regarding large vs smaller organizations, and top down vs bottom up.
Some say that the model is better for initiating change than sustaining it. Other change models do seem to pay more attention to that – such as Reinforcement in the ADKAR Model.
I think advantages and disadvantages like this need to be considered specifically for the situation.
Conclusion and Further Resources
What is your experience with change models? Any experience with Kotter's 8 step model?
For an in depth read of Kotter's work, see his book, "Leading Change".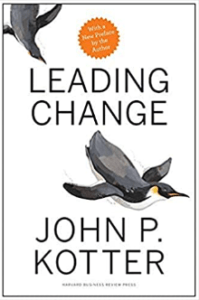 For a nice video overview, I recommend, "Kotter's 8 Step Change Management Model", by Susan Madsen. Leadership Coach at ProjectManager.com.