Developing a solid Value Proposition that leads to success is critical and not easy. And it applies to projects and programs as well as to organizations.
This post takes a deep look at the Value Proposition component – one of nine components of the Business Model Canvas.
Overview of Value Proposition of the Business Model Canvas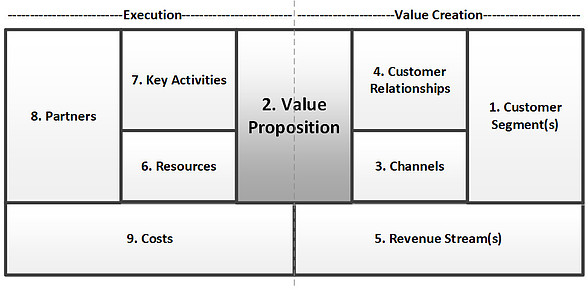 The Value Proposition is located at the center of the Business Model Canvas, as shown above – notably at the split between the Execution and Value Creation components. It connects what the organization can provide to what customers need.
The Business Model Framework is largely credited to Alexander Osterwalder and Strategyzer.  To supercharge your understanding of business models, I recommend his book, "Business Model Generation: A Handbook for Visionaries, Game Changers, and Challengers".
Making that connection is not as simple as it sounds – but it's beautiful when it happens.
It is critical to mention that a Value Proposition for any organization should always be considered a work in progress. Openness to change is healthy. In fact, an appropriate amount of innovative thinking about the business model is practical and wise.
Every organization, industry, and situation, is different. However, in most situations, the accelerating speed of change has become one of the few certainties. Being able to adapt the Value Proposition accordingly is a distinct capability and strategic advantage.
The key is being able to pivot with a Value Proposition. And the way to do that is by routinely formulating hypotheses and testing them.
Startups in particular need to be good at that. Using hypothesis thinking, organizations need to ask themselves, "What needs to be true for this thing we came up with to happen?"
Two Sides to the Value Proposition – Making the Connection

A structured framework is helpful to building and managing a Value Proposition. The diagram above, developed by Alexander Osterwalder and the Strategyzer team, illustrates the two sides.
Square at Left – Value map showing Gain Creators, Pain Relievers, and Products & Services (see more detail on these below). Yellow squares represent sticky notes that fit into each of these areas.
Circle at Right – Customer profile showing Jobs to be done, Customer's Gain, and Customer's Pain (more detail below). Again, yellow squares represent sticky notes that fit into each of these areas.
—————————————-
I recommend these strategy resources on FlevyPro (paid links):
—————————————-
The objective is to map as many of the sticky notes on the left to sticky notes on the right. That would mean customer offerings matching customer needs.
Who Is the Customer?
The customer is defined by their experience – not by their demographics.
Here are the three components that define the customer:
Jobs to be Done – This defines the real problem the customer needs to solve. What 'job' does the customer need to get done?
Customer Gain – What does the customer stand to gain from getting the job done? This will indicate the value of a solution to the customer.
Customer Pain – How much pain is the customer experiencing without a solution to this problem? This will indicate the urgency and priority of finding a solution.
Identifying the customer becomes easier by brainstorming ideas for each of these three areas and placing them onto the circular chart at right.
Companies Develop Competing Value Propositions
In the private sector, companies will vie with each other to have the best solution for the customer. They will compete along three distinct areas:
Products & Services – These are targeted to help the customer get their job done.
Gain Creators – There will be features and attributes that specifically create a gain for the customer.
Pain Relievers – There will also be features and attributes which will contribute directly to relieving the customer's pain.
Each company needs to brainstorm and develop products and services with features that fit into the above three areas.
They will largely compete to see who best addresses:
Customer dissatisfaction with their current situation
Customer preference for the company's offered solution
Value derived from the company's solution, hopefully perceived to be greater than other solutions
Value propositions are very customer centric, focused on customer wants and needs, and not broad demographics. Optimizing the customer experience is the key.
Pulling It Together: Geoffrey Moore's Value Proposition Template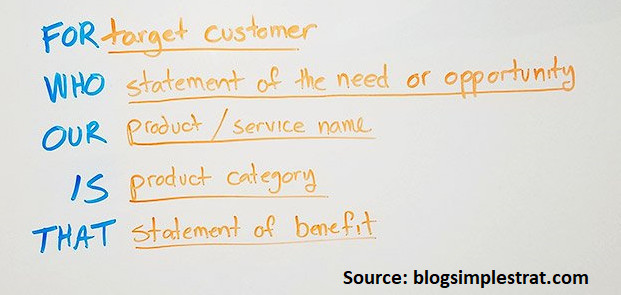 Geoffrey Moore is a well-known management consultant, organizational theorist, and author. While there are many value proposition templates, he developed a simple and credible one that is good for pulling it all together.
Here are the five simple steps of Moore's value proposition template:
FOR – the target customers, described by segment or persona
WHO – their main problem (or opportunity) — problem, need, or want
OUR – product or service is… Describe the product or solution generally
IS – describes how product or service solves the problem
THAT – describes the benefit, as unique from other solutions
The idea is to string together these five points into a coherent statement of value – a value proposition – for your organization's product or service offering.
Implications for Strategic PM's and Further Resources
—————————————-
I recommend these PM templates (paid link):
—————————————-
There are two areas where I think project managers can best leverage these ideas about value proposition and business models:
1. Stakeholder Management
Stakeholders include the customers of a project. Unlike consumers, stakeholders derive some benefits from the project, and the benefits they seek can vary widely across the stakeholder group. It may be that each stakeholder group will need its own Value Proposition.
All Value Propositions need to be monitored closely to ensure the project is on track to deliver the value. Manage projects to the Value Proposition – not just to cost, quality, and schedule parameters.
2. Project Planning
In planning the project, we need to think carefully about the value being produced by the project. Part of this related back to #1 above – stakeholder management. However, there is a broader need to focus on value with an organization-centric, and even eternal facing, perspective.
To achieve a successful project outcome, PM's need to get close to the end consumers and develop metrics that will allow them to create the value that is needed, and pivot if necessary.
You can quickly and conveniently work through the Value Proposition and other components of the Business Model Canvas with the Lucidchart Business Model Canvas template (Try for free) – recommended!
Conclusion
Creating value is what projects are all about. Leveraging the "Value Proposition" fits well with that, providing a solid framework applicable to projects as well as organizations.
In what ways might you use the concept of Value Propositions to add value on projects? Please share your thoughts below.
________
The following are some recommended resources on the topic of the Value Proposition of the Business Model Canvas:
To supercharge your understanding of business models, I recommend "Business Model Generation: A Handbook for Visionaries, Game Changers, and Challengers" by Alexander Osterwalder.
Short video walks through a great example: "Value Proposition Canvas by Strategyzer.com explained through the Uber example":
Video (30 min) by Alex Osterwalder on "Designing your Value Proposition" at Mind the Product Conference in 2014