Gap analysis is something that we do naturally when we identify that we want vs what we have. On an organizational level, this natural process requires a more proactive approach that is much more formal, disciplined, and detailed.
This post examines what gap analysis is, where it is applied, and its challenges and benefits.
Basic Gap Analysis Diagram Overview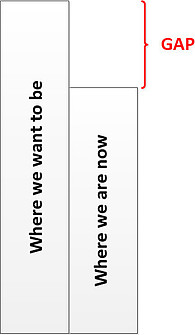 Whether personal or business, there usually is a delta – or gap – between where we are and where we want to be.
In more formally structured, broader, and larger situations – in business, industry, non-profit, or government – these are often called performance gaps. Gap analysis involves performing due diligence to evaluate gaps, constructing a vivid picture of a better state, identifying what changes can be made to reach that state, and then executing those changes.
Here are some examples of gaps:
Quality – A company may wish to compare the quality of its products to those of competitors. This would include a detailed review of numerous key attributes. The gaps could include areas where the company's product outperforms its competitors on some attributes and under performs on others.
Human Resources – An organization may wish to evaluate their work force across a series of attributes, such as academic degrees, pay range, years of overall experience, experience in the industry, and prior roles.
Cost – A manufacturing company may desire to look at its costs to manufacture a product. These may include an evaluation of how much they cost now, and how much they may cost in the future if volumes change. They will want to compare these costs to competitors or industry norms.
Sales – Companies measure their sales against a goal – and the difference is the gap.
Process – Many processes can be evaluated for gaps – such as, for example, a customer support process. How fast are calls answered, issues resolved, or resolution deferred to the next step?
—————————————-
I recommend these PM templates (paid link):
—————————————-
A common thread going through those examples is benchmarking. In all cases, the organization is comparing some type of real measure to a benchmark metric.
The Four Gap Analysis Steps
Let's define each of the gap analysis steps and run it through the customer service example in the last bullet above.
Describe current situation – Step 1 involves setting the baseline of where the organization currently is performing. In our example, the current situation is that responsiveness to customer queries is slow – in terms of both initial engagement and resolution. Specific metrics are needed – such as a live person answers a call within 10 minutes, and the average time to resolve an issue is 60 minutes – to quantify that slowness.
Describe target situation – In Step 2, the same situation and those same metrics are assigned targets. The numbers may represent industry averages, industry leading performance, or ambitions. The target situation could be for a live person to answer a call within 2 minutes, and the average time to resolve an issue may be targeted at 20 minutes.
Analyze gaps between current and target – There are many factors that can contribute to the gap. For example, the gap to answer a call – 10 minutes minus 2 minutes = 8 minutes – could be due to not enough support people, inadequate training, inefficient recruiting processes, less effective on boarding, a sub optimal call system, or many other things. Time to resolve an issue – with a gap of 60 minutes minus 20 minutes = 40 minutes – could also be due to sub par training and not enough support personnel, but it could also be due to a poor system of escalation, inadequate customer support software, and other factors. In Step 3, these various factors need to be explicitly identified and analyzed.
Establish plan to close gaps – Based on the factors contributing to the gap, as identified in Step 3, a plan is established to move performance from current to target. For example, an investment in better hiring and on boarding processes as well as a better training program, can move the needle in the right direction. Everything must be quantified.
The common thread through each step is measurability. The key is to identify something that can be measured – SMART goals. As the saying goes, "You cannot manage what you cannot measure."
Strategic Gaps, Operations Gaps, and Other Applications
It bears repeating: gaps, as well as factors causing gaps, need to be quantified. That's the surefire way to identify projects to close the gaps, and run those projects more effectively.
The gap analysis diagram at the right shows gaps for revenue and for cost. In reality, there will be such diagrams for a myriad of factors that contribute to the particular gap.
Extending what was said in the last section, there could be a gap analysis diagram for any of the following and more:
Pay gap between customer service employees and those as other companies
Excess inventory as a percentage of sales when compared to competitors
A lower number of customer contacts for lesser performing sales people compared to the high performers
An excessive number of assembly steps as compared to what is needed to meet delivery times
A shortfall of resources being allocated to new product development relative to strategic targets
The list can go on and on. There should be a gap analysis diagram for each of these factors.
The keys, then, are to identify the right metrics and to choose the gaps that produce the greatest results – the 20% that produces 80% of the results, or the Pareto Principle.
Strategic implications
Performing gap analyses requires a lot of detailed work. Several techniques, methods, or frameworks that can help with the effort, including:
SWOT analysis – Provides a framework for analyzing Strengths, Weaknesses, Opportunities, and Threats to ensure consideration of primary strategic concerns.
PESTLE analysis – Analysis of Political, Economic, Social, Technological, Legal, and Environmental – external factors for consideration, which could reveal gaps in policy, structure, or approaches within the company.
Nadler-Tushman framework – Focuses attention internally on the culture, structure, people, and work of the organization, potentially revealing gaps that can result in under performance.
McKinsey 7S framework – A framework for analyzing core, value driven 'hard' and 'soft' factors that need to work in a synchronized way in order to achieve target performance levels.
Gap analysis can provide important strategic insights with high impact.
Gap Analysis – An Indispensable Project Management Tool
Gap analysis is a great source of projects. The identification of gaps reveals the need for changes, which in turn are implemented through projects.
Can you identify the explicit gaps being addressed for some of your projects? Do you have clear metrics to measure progress toward closing gaps and reaching target objectives?
The following are related resources (these are paid links):