The Ansoff Matrix Model is a useful tool for visualizing strategic options for product companies. It can be useful for devising strategy, presenting to stakeholders, and for collaborating about direction. It can help project managers with planning execution, and especially with assessing strategic risks.
Ansoff Matrix Model Explanation
The Ansoff Matrix Model, developed by mathematician and business manager H. Igor Ansoff and published in a Harvard Business Review article in 1957, provides a visual representation of the opportunities and approaches available to the organization.
The matrix can provide a great presentation tool for explaining strategies or to support collaborative discussion. One very notable benefit is that it also visually shows the increased or decreased risks of choosing one approach over another.
Here is a brief explanation of the focus of each of the four quadrants of the Ansoff Matrix Model:
Market penetration – marketing existing products and services to more customers within the same market
Product development – developing complementary products and services for existing customers
Market development – extending sales and marketing of existing products and services to new markets
Diversification – entirely 'green field' – entering new markets with new products
Note the increasing risk between quadrants – moving to the uncertain or unknown in the development of new markets, new products, or both:
Moving from market penetration to product development
Moving from market development to diversification
Moving from market penetration to market development
Moving from product development to diversification
In all cases, as you move from left to right, or top to bottom, you are moving into the uncertain and unknown. However, the graphic does not take into consideration that it may be risky to stay in a quadrant such as, for example, market penetration, because working to maintain or increase market share in a crowded market – a red ocean strategy – may be the riskiest of all.
Market penetration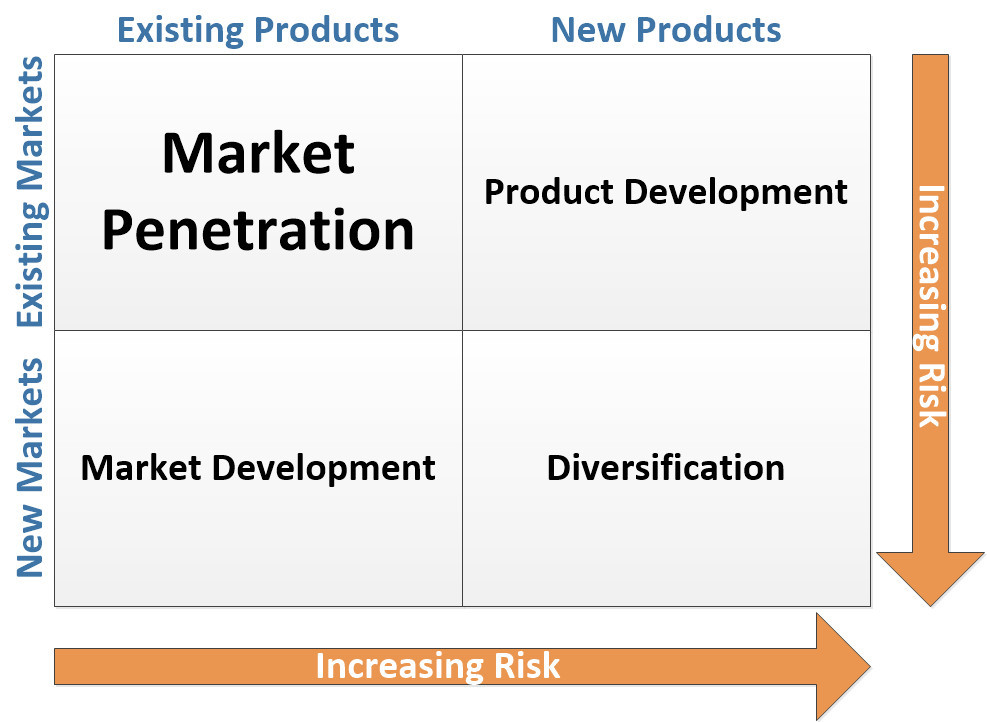 Market penetration means expanding customer base and market share in the same market with the same product offering. It is usually the favored strategy during the product life cycle growth stage, before the market gets established and more competitive, when growing market share and building scale is possible.
Here are some pertinent questions to ask when considering the market penetration focus:
Will decreasing prices attract new customers? How many?
What is the resulting decreased cost per unit when volume is increased?
Can volume be increased at the same price with increased promotion and distribution efforts?
Are there partnering or acquisition candidates that could further penetrate the market?
How closely or loosely tied is this market to other markets? What do the customers really want and need?
What are competitors doing, or likely to do?
What other considerations and questions come to mind when considering a market penetration strategy?
Product development

Product development is usually a favored approach when market penetration has run its course. If a company has been successful in penetrating a market with product and services and has a close, established customer base, with a protected market share, it may be more economical to develop new products and services for existing customers than to invest in gaining more market share.
Here are some pertinent questions to ask when considering the product development focus:
What kind of investment in research and development might be required?
Are there opportunities to add inexpensive variations of current products, enhancements, or closely related products and services to the offering mix?
Are there partnering or acquisition opportunities available to gain complementary products or enhancements?
Are there desirable products available that can add new distribution channels?
Can the brand be used as a competitive advantage in introducing new products?
What other ideas might you have for consideration in product development?
Market development
Market development means offering existing products and services in new markets. With the investment in developing current offerings already in place, and with a business model established in one market, the opportunity is to transplant the product and business model into another market, often geographical.
Here are some pertinent questions to ask when considering the market development focus:
What kind of investment in sales, marketing, and distribution might be required?
What customer segments might have the most closely aligned attributes to our existing customer segment?
Are there opportunities for geographic expansion?
Do we fully understand the customer experience, and are there other markets where we can leverage and extend our customer experience offerings?
What are the regulatory hurdles of any new market development we need to consider?
What other important considerations pertaining to market development come to mind?
Diversification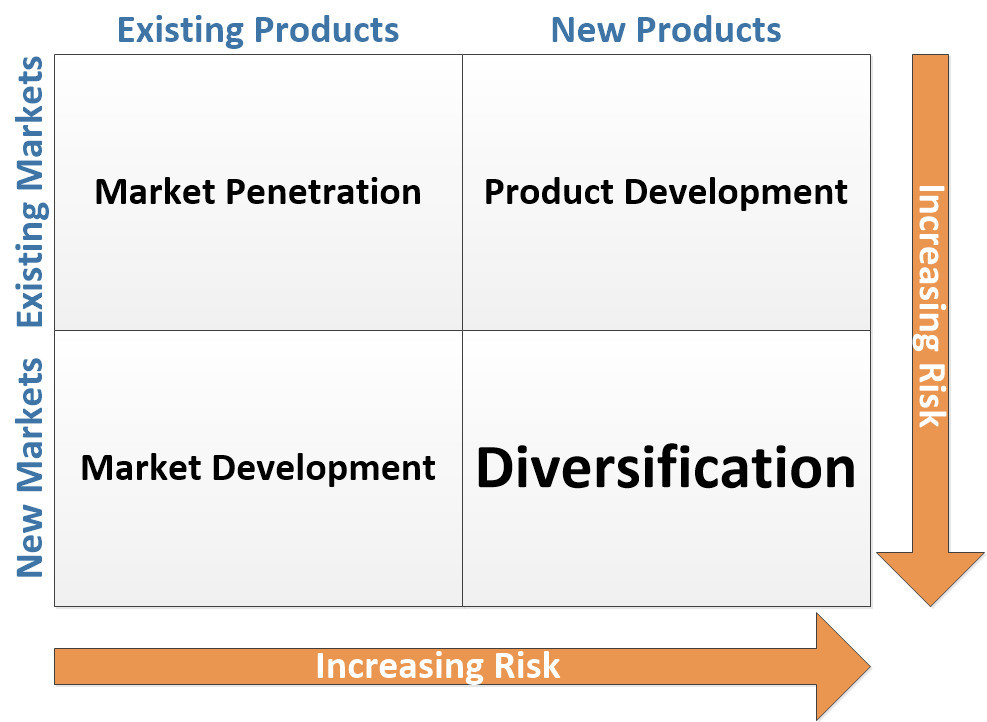 Diversification means both developing new products and developing new markets, making it the riskiest of the four strategies. However, if successful, a company can reduce its overall business risk with diversification across business segments, whether related or unrelated.
Here are some pertinent questions to ask when considering the diversification strategy:
Are there potential synergies in the product development area? Can a lasting product development capability be developed?
Are there potential synergies to be realized with expansion of sales and distribution?
What is the purpose for the diversification? Is it to spread risk?
Will diversification hurt existing business in any way?
What ways of working can be leveraged, and which will be entirely different, from the current business?
What additional things might be considered when thinking about a diversification strategy?
Advantages, Disadvantages, and Actions for Project Managers
Here is a quick summary of some advantages and disadvantages of the Ansoff Matrix Model:
—————————————-
I recommend these PM templates (paid link):
—————————————-
Ansoff Matrix Advantages
Helps with collaborating and understanding different options and their risks
Great visual tool for presentations
Very applicable to product-oriented businesses
Pertinent for consideration of internet of things (IOT) projects
Ansoff Matrix Disadvantages
The Ansoff Matrix can be very useful for project managers in planning and executing projects:
Use for risk management – It helps in understanding the inherent risks of certain types of projects, including the risk of doing nothing.
Planning – The Ansoff matrix strategy can add clarity to the objectives your project is supporting.
Awareness – The matrix can provide context for the strategies the organization, competitors, and suppliers are pursuing.
Career growth and advancement – The framework adds clarity to strategic thinking.
Portfolio management – The tool helps to select among projects that support growth strategies.
The Ansoff Matrix Model is a very good for PM's on projects for private sector companies.
The following are related resources (these are paid links):