"Low code no code" refers to digitization through more efficient means – through "citizen development". It is a growing trend that shows potential for growing and evolving over the next decade and beyond. This article explores some things that are happening in this growth area, why it exists, and implications for strategy and project management.
The Problem – or the "Job to be done"
Programming software is complicated. It requires a great deal of skill, years of developing in practice, and a unique mentality and approach. Those that have achieved high skill levels are in high demand.
At the same time, there are lots of professionals who have built careers in large businesses, government, small and medium enterprises, and non-profits. These professionals have a tremendous breadth and depth of domain knowledge…and insights as to potential benefits to these organizations of digitization.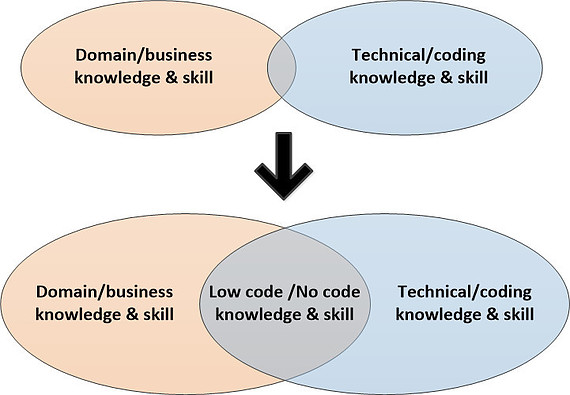 The "job to be done" is building out the enormous number of value added digitization projects.
Without the low code no code approach, implementing the overflow of digital enhancement projects is a bottleneck. There is barely an overlap between those with the business skills vs those with technical skills. And it's not just about skills; it's also about bandwidth. Organizing the work as it has been, with coordination across the chasm between business organizations and IT departments, is the pain point and bottleneck.
A new approach of making development easier to master by a larger population, especially one that has business skills, can relieve that bottleneck. Depicted in the graphic above, the area of expanding overlap between the business and technology functions is where digital development can expand. This can allow those on either the business and technology side to focus attention on other issues. This will allow development activities to proceed in this new, more efficient way.
PMI Perspective on the Low Code No Code Opportunity
The PMI is embarking on a program of setting the standards for low code no code development, offering training, and building a community of practitioners. It hopes to leverage its international presence, large membership of project managers, and expertise in standardization of processes.
The PMI is responding to the need – to the "job to be done" – with its unique capabilities. The idea is that an infrastructure is required in order for low code no code benefits to be realized. This infrastructure needs to include:
Delineation of responsibilities on the business, IT organization, and new low code no code organization
Training of personnel on their responsibilities within this structure
Development of processes for implementing new digital applications
Development of technology standards
An industry wide, community of practice support infrastructure
The PMI will likely participate in the management oriented aspects of these, and leave the technical to others.
Strategic View of the Low Code No Code Opportunity
The first question is, how will all of this shake out? Here are some initial observations:
The low code no code industry is very fragmented
Industry evolution appears to be somewhere around the end of the initiation phase and beginning of the growth phase
The low code no code technology is disruptive innovation to established application development technologies
Network effects are at play, where value is added for all with each new user
There could be economies of scale and scope, and switching costs could be large
—————————————-
Check out these strategically driven templates (paid link):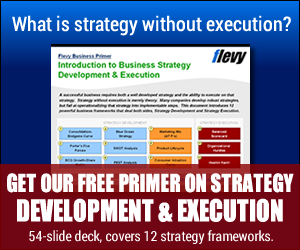 —————————————-
It seems that winners and losers will be determined in the coming years. However, the industry can still offer many opportunities for providers of low code no code technology. There is potential for major differences in needs based on market segmentation:
Company size – Larger companies will have a different way of doing business, and larger scale problems. They will also have to deal with more change from the way they do things now. Providers will need to accommodate different ways of working as well as unique types of problems based on size.
Industry – Many of the problems in each industry are unique. Solutions will emerge that cater to specific industries, and thus some providers will be industry focused.
Function or application – This may also be a factor in keeping providers disaggregated, or fragmented. Current sellers of standard software products, such as project management software, may need to shift into more componentization, allowing users to assemble the right mix of components for their needs.
Integration – Integration with existing applications will be a key. I would expect providers to offer wide integration capabilities with the application interfaces in their area of specialization.
Geographic/geopolitical – This all depends on how open markets are, and how they evolve. It is certainly a risk to consider.
This definitely looks like an infrastructure play, where communities will arise around solutions.
Managing Low Code No Code Projects
Are low code no code projects a different type of project?
Every project is unique, but one of the defining characteristics of low code no code is that building the requirements should be the primary activity related to building the application. The application should simply fall out of the requirements, with minimal technical effort required.
These projects, however, will not be done with minimal effort. Decrease of development time may be impressive – I have seen figures like building an application in 20% of the time, plus or minus. However, this is still time, and it will take time for organizations to ramp up to the capability! In addition, I would expect that the decreased time will simply provide the ability to do more projects!
These projects seem to lend themselves strongly to an agile approach, mixed with lean innovation. It appears that they can deliver value quickly – early and often – and learn as you go. I would think the makeup of the team would be a little different. Traditional agile teams consist of a person at the business/requirements interface, with technical people on the team. Instead there would be a more balanced team with most people working at that business/requirements interface, all with hybrid skills for requirements gathering and developing using the low code no code tools.
Project portfolio management (PPM) in this environment will likely be a big challenge! The prospect of having many more projects that are attractive is exciting, but needs to be managed. Resources may not be as big a constraint, but will still be a constraint at a higher level of demand.
Program management will be interesting. The life cycle of programs may shrink, due to the rapid development time. But they may also remain, just with more projects being executed, and more digital requirements being fulfilled. The strategic drivers may be the same, but the need to execute efficiently and effectively will be at a premium since these technology enablers will raise the bar on everyone's performance.
The Road Ahead for Low Code No Code
I suggest visiting the PMI Citizen Developer page for some excellent resources.
This is an interesting and emerging area, and I will be exploring it more. If you have some experience in the low code no code arena, please share!
Check out these project management templates new Project Management Handbook (paid link):