This post introduces the concept of Core Values – what they are, and where they are used. It provides examples of Core Values used in sports and transitions from sports to Core Values in business. Finally, it considers the link between Core Values and strategy, and Core Values and project management.
What Are Core Values?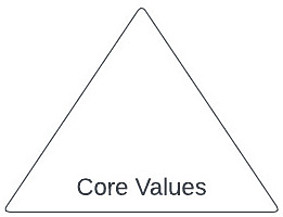 Core Values are a set of foundational principles, norms, and ideas to live by. They form a basis for individuals to move forward in pursuit of goals – and becoming. Indeed, Core Values are a critical underlying component in the formulation of strategy, and in the implementation of projects and programs.
But Core Values go much beyond the individual. They provide a shared common understanding, norms of behavior, and even rallying cries for groups of individuals.
The value of a team is greater than the value of its individual parts – of the team members. The underlying Core Values provide the glue that holds it all together for a common, central purpose.
This post provides an overview of Core Values and how they manifest themselves in small teams, larger teams, and even large organizations. It first looks at the example of Core Values in sports, and then extends to Core Values in business and beyond.
Core Values and Sports Success
How do Core Values relate to sports? We need not look any further than some sports successes, especially where they have passed to test of time.
The first example, that I experienced as a fan, student of the school, and friend to many of the players, is that of Pete Carrill, the late coach for many years of the Princeton University men's basketball team.
Pete Carrill's Core Values had a fourfold focus:
Better Player, Better Life – Carrill connected to the greater purpose of his mission as a coach. It was not just about becoming more skilled at the game of basketball. It was about the greater purpose of becoming a better human being. And the core belief was that if a player works to become a better basketball player, he will become a better person in life, even long after their basketball days are in the past.
Best Team Possible – Teams are limited by the talent of the players. But how limited? Carrill proved time and again that this "limitation" need not place artificial boundaries on what can be accomplished, especially together as a team. He had an innate ability to get the most from each individual, but particularly as to their contribution to the overall team effort. With Carrill, it was all for the team.
Compete, Never Quit, Smarts and Effort – These are core qualities that Carrill honed through practice, consistent repetition, and constant emphasis. It's really three core Values in one: the idea to always compete at the highest individual and team level possible; to never quit or let up from start to finish of an effort; and to use your head to make the most of the physical effort. That last one takes strategic thinking coupled with strong execution!
Winning with Integrity – It is important to win – but only when done in the right way. This sense of integrity goes back to the first Core Value: Better Player, Better Life. And it extends it to the team level, where team members respect one another, are unselfish, and do it for the team. And finally, it extends it to competing in fairness and respect for your opponents, and even for all who are watching. Integrity crosses the boundaries of what everyone sees.
Leadership styles can be personal, but Carrill's style was characterized by intensity, strong organization, commitment to brutal honesty and tough love for all, and team over self. He had a unique style characterized by fun and humility, and heart was a teacher. A lesson here is to be authentic, as there is only one Pete Carrill, and there is only one you!
Bridging Sports and Business Core Values
Bill Campbell was head coach of the Columbia University football team – and actually had limited visible success. But he parlayed his skills and foundational Core Values into a successful business career in high tech – and hence became known as the "Trillion Dollar Coach".
I will not go as in depth, but here is a list of Campbell's Core Values:
People-centric
Team centered
Belief in Communication
Consensus decisions not always the best
Speed in decisions and empowerment
Value of simplicity
How to manage difficult employees
Trust – the most important things in a relationship
Humility
Remain grounded
This list provides a seasoned guide for taking action in business – not strongly different from the values of Pete Carrill. In particular, being people-centric, team center, trust, humility, and remaining grounded share a large overlap with Carrill.
The Core Values pertaining to sports are extended through direct business experience in areas such as belief in communication (certainly also important in sports), consensus decisions not always the best, speed in decisions and empowerment, value of simplicity, and how to handle difficult employees. These are values that are most critical in the high tech settings in which Campbell operated, and other values may be more important in other businesses.
This provides a great example of how to extend Core Values in Sports to specific business settings.
Core Values and Business Success: Accenture
Now let's take a look at a much larger organization – Accenture – and its Core Values.
Accenture's Core Values are bundled into the acronym CORBIS, which stands for these foundational Core Values:
Client value creation – It's all about a singular focus on finding ways to create value for clients, and then implement them.
One global network – This is all about the team concept. The whole is much greater than the sum of the parts. At Accenture, value is derived from international reach, cross functional expertise, and a near infinite set of specific capabilities to address the problems at hand. The whole is greater than the sum of the parts – and there are a lot of parts!
Respect for the individual – It's not just about the collective; the collective good is achieved through individuals thriving. The organization seeks to ensure that will happen by setting the conditions such that the broadest, most diverse collection of individuals are able to engage and thrive.
Best people – As a consulting organization that provides expertise, this value sets the highest standards for skill and performance. Thus, it seeks to hire and train people to be the best, by objective benchmarks, in their areas of expertise.
Integrity – There is no tolerance for compromising on integrity. Every effort – and formal policy – is made to avoid conflicts of interest that in any way could bring questions about personal or organizational integrity. This is reinforced by encouraging employees to speak up if something looks "off".
Stewardship – Stewardship is defined as, "the job of supervising or taking care of something, such as an organization or property." This value means taking responsibility for making and leaving something better than you found it.
These CORBIS Core Values seem to jive well with Accenture's stated purpose as an organization: To deliver on the promise of technology and human ingenuity.
Core Values and Strategy
Core Values and strategy need to be in sync. If they are not, the strategy simply will not work.
In a little more detail, here are three considerations for approach to strategy considering Core Values:
Organizational fabric – Several strategic frameworks – MicKinsey 7S Framework, Digital Transformation Strategy, Business Model Innovation, and Network Effect are a few – are built around the organizational fabric. They are all about having alignment, consistency, and building unique capability where strategy and organizational structure are aligned.
A fit between strategy and Core Values – The key is to keep the organization's Core Values front and center while developing strategy. It's better to "bake it in" than to do it as an afterthought.
Changing strategies, changing core values – One way to reduce the complexity of strategy in the face of change – and keep strategy in sync with Core Values – is to use the 'strategy as simple rules' approach. Rather than a comprehensive makeover of a complex strategy, it is simpler to tweak rules as required.
Thinking like a strategic PM, aligning strategy and implementation includes ensuring that the Core Values are aligned with strategy.
Core Values and Project Management
Strategy execution can best be achieved by harmonizing your PM approach with the Core Values of the organization. A look at Accenture's Core Value framework above gives a pretty strong indication of how to do that.
Here are some more specifics about how Core Values align with projects and programs, portfolios of projects, and the overall project management capability of the organization.
Core Values and the Project – Internal projects serve the organization and thus need to be clearly aligned with purpose – and Core Values. External projects – such as projects executed for another organization, such as in a consulting setting – need to be double aligned. First, they need to be aligned with the consulting organization's cultural norms – it's Core Values. In addition, they need to be aligned with the client organization's culture and Core Values.
Core Values Across Projects – Core Values are one thread that ties together projects in a portfolio. For example, if a project does not meet certain criteria for alignment with organizational Core Values, then it should seriously be considered for elimination or revision.
Core Values and the PM Capability – As explained in the Accenture example above, Core Values need to be consistently applied across the organization. This is especially critical with the Project Management Capability, which needs to be consistent across projects, especially when you are serving clients.
For the strategic PM, paying attention to and adopting Core Values while executing projects gets you outside yourself. It gives you a bigger driving purpose and approach to aspire to when implementing projects.
Conclusion and Further Resources

This post has defined what Core Values are, outlined how they are used in sports, talked about the transition from sports to business, and considered the link between Core Values and both strategy and project management.
Many of the ideas in the sports examples in the post were from Barnes Hauptfuhrer's book, "Teamball", which I highly recommend!
This Video, "Our company values, from the inside out", can help get you thinking outside the box.