I am a believer in extracting best practices, wherever we can find them, and incorporating them into my own challenges.
As a project manager, you have customers on your projects. Some of your projects may actually be to support customer experience (CX) – many digital strategy projects are. This post provides some background that may be helpful for that. However, the focus is on simply providing some background on customer experience management models that you might be able to apply to your projects.
Here is the opportunity to learn from those who live in the world of customer experience every day, and to extract some tidbits of knowledge to put into practice on our projects.
Accenture Nonstop Customer Experience Model
It is very interesting what Accenture has done. They have developed a whole separate business unit that combines some core skill sets that Accenture has always had with some new skills and offers related to customer experience.
The graphic illustrates the approach. The first thing to note is that it is continuous; customer experience efforts are a process that, unlike a project, continues indefinitely. However, like a program, it is the combination of a series of directed efforts toward a specific set of strategic goals.
The second thing to note about the process is that it is based on a relationship between a Promise and Delivery.
The Promise looks to me a lot like the hypothesis in the scientific method, In this case, however, the promise is something that is given to the customers. It is based upon things that the organization Discovers and Considers regarding customers and what they want.
The Delivery is like the testing of the hypothesis in the scientific method. Customers Purchase and Use the product.
At the intersection of these two activities – Promise and Delivery – is Evaluate. The organization Evaluates the customer experience based on feedback, which cycles back to the Discover and Consider processes that feed another Promise. That Promise results in an improved Delivery to the customers, as the cycle repeats itself continuously.
Customer Experience Function Priority Model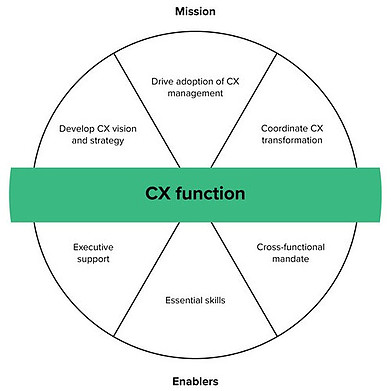 Forrester uses this model in consulting engagements. It acknowledges that there are many touch points – customer experience (CX) functions – to consider, and each can be cycled through the model.
When I think about customer experience, I think of a number of things – here are 10 – right off the bat:
Advertisement
Social media
Word of mouth
Sales encounter
Information gathering
Using samples
Purchasing
Receiving delivery
Customer support
Returns
Now it seems that Forrester would put each of these aspects of customer experience through the model. For example, if Advertisement is the CX function, they would evaluate the Mission and the Enablers related to Advertisement as a CX function.
For Mission, the analysis might go like this:
Develop CX Vision and Strategy specifically related to advertising activities.
Drive Adoption of CX Management for all aspects of advertising.
Coordinate CX Transformation by setting goals and measuring progress on key CX metrics for advertising.
For Enablers, the analysis might go like this:
Executive support needs to buy in to a positive customer experience in all advertising activities.
Essential skills in the work force must support a positive customer experience
Cross-functional mandates mean that the CX culture supports advertising but is pervasive beyond the advertising function.
This is a nice model for a larger company that needs organization and coordination across a spectrum of work groups.
Customer Experience Maturity Model (CXMM)
Naturally, with the various maturity models out there, it would only make sense that there is also a Customer Experience Maturity Model (CXMM)! This one was developed by Solvvy, as provider of systems for Customer Service & Support based on Artificial Intelligence (AI).
The CXMM clearly looks at CX as a process, and is based on the principal of continuous improvement.
The CXMM outlines five (5) segments for evaluation along customer experience dimensions. They include:
Data – data about customers, surveys, analyses of data, data from existing sources (support tickets, social media, sales calls, customer requests, feedback) used to make digital changes
Design – clear CX vision, vision shared regularly, timely updates to vision based on feedback, leadership and team leader buy in, CX in sync with brand and business model
Delivery – employee activities are synchronized with CX vision, activities required are clearly documented, everyone understands their role related to CX, there is accountability regarding CX, employees are trained and properly skilled to execute
Measurement – defined benchmarks for sales, marketing, development, customer support, etc.; regular surveys across digital touch points; measurement data well understood across work force; evaluate measurements against business goals; feedback to measure impact of CX efforts on customers; confidence with understanding of how customers perceive company, with measurable goals to improve
Culture – empathy is core value, hiring processes linked to CX culture, expression of good CX practice among team members, pervasive feeling of importance and purpose linked to CX, schedule routines that positively affect CX
The model provides an organized way to isolate and improve all aspects of CX.
Analyzing Customer Experience on Your Projects
This is how companies on the cutting edge of CX do it. If you work on projects in the area of customer experience, this is probably second nature.
—————————————-
I recommend these PM templates (paid link):
—————————————-
In the spirit of learning from best practices – whether from other industries, other cultures, or other functions – what approaches can you glean from these customer experience models for use on your projects to ensure a happy customer?
Here are a few thoughts that I have gathered from reviewing these customer experience management models:
Seek to understand your customer deeply and with great empathy.
Acknowledge that the CX process is continuous – that it requires consistent effort and is never complete.
Be agile about CX – take continuous action – and evaluate the results and make adjustments.
Make CX a part of your project's mission.
Ensure that team members have a minimum level of CX skills, emphasize CX skills regularly.
Pay attention to alignment of the CX vision of your organization and the CX vision you set for the project.
Find a way to collect data on the CX experience on your project, and analyze and discuss it with your team.
Identify and prioritize customer touch points on your projects. Set some benchmarks for performance on each.
Everyone on the team must recognize that your project exists to serve the customer.
Applying Customer Experience Management Models in Project Management
With some background and awareness, you can now borrow any approaches that resonate the most.
In moving forward, stick to the mantra of keeping it simple! The approaches in the customer experience management models outlined usually support larger, more complex organizations than your projects. However, that's what borrowing from best practices does – it gives you the opportunity to see how something is done at the extremes, and then to borrow a few best practices and apply them.
Apply something new on your project to enhance your customer's experience! Ensure that everyone on the team buys in and recognizes that the customer is the reason for the project and that to serve the customer is the reason everyone is there.
—————————————-
I recommend these strategy resources (paid link):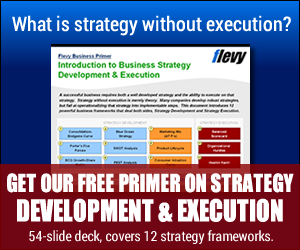 —————————————-